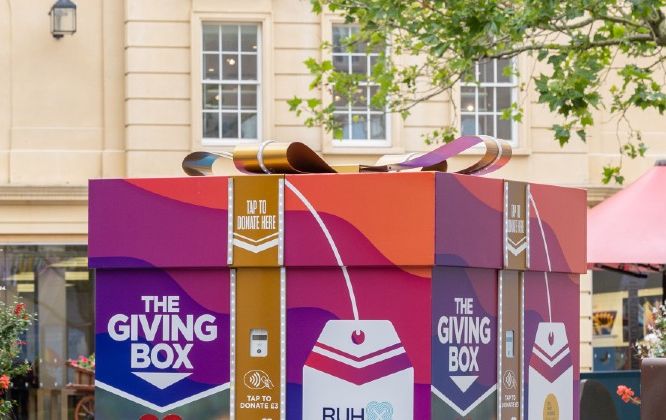 The Gift of Giving Back
In 2023, we want to continue giving back to some of the amazing charities that do such wonderful work in our community.
Located at SouthGate Place, customers can use contactless payment to easily donate £3 to one of our four amazing charities:
Off the Record Bath & North East Somerset
Off the Record Bath and Northeast Somerset (OTR) improves the emotional health and wellbeing of young people. We want every young person in Bath and Northeast Somerset and beyond to be emotionally healthy, confident and empowered in themselves.
We provide a range of free services for anyone aged 10-25 living, working or studying in B&NES, including counselling, listening support, youth participation, advocacy, support for care leavers and a LGBTQ+ focused youth group.
The Lily Foundation
We're the UK's leading mito charity, raising awareness, funding research and supporting families impacted by this incurable and life-limiting disease. Our Lily Wish Fund, launched in celebration of The Lily Foundation's 15th anniversary in 2023, grants wishes to improve the lives of families affected by mitochondrial disease.
RUHX
At RUHX, we're more than a hospital charity.
We go further to give every patient the extra extraordinary care they deserve, while supporting our staff to do what they do best and furthering innovation within our hospitals. We're out there in our community, collaborating with the people and organisations who drive real change. And we're making sure that every penny we raise goes towards improving health, happiness and wellbeing for everyone in Bath and beyond.
We are RUHX. And together, we have the power to do more.
The Nest Project
The Nest Project aims to serve families who are experiencing financial pressure, by providing free clothing, equipment and toiletries to children under the age of 5 in BANES. We also run free toddler groups where families can access warm, safe spaces for their children to play, and to be a listening ear to those that need it. With the cost of living crisis and 1/3 of children under the age of 5 living in poverty in this area, we need all the help we can get to give children the start in life that they deserve.
Last updated Wednesday 19 July, 2023